Performing your Toyota oil change at factory recommended maintenance intervals is a great way to keep your Toyota running great and maintain its value. At Kendall Toyota of Fairbanks we use Genuine Toyota Motor Oil formulated to help protect against corrosion, prevent foaming and maintain proper application of oil on cylinder walls.
Need an oil change for your Toyota? Our Toyota-trained technicians right here in Fairbanks at Kendall Toyota of Fairbanks can quickly perform this service for you. Schedule an appointment with Kendall Toyota of Fairbanks.
Why Toyota Service with Kendall?
We know your vehicle. At Kendall Toyota of Fairbanks, our Toyota service technicians won't just perform a routine Toyota oil change, they will make sure you get the right oil for your make and model, your car's mileage, and your driving habits. In newer vehicles, you make be surprised to know that you don't need to change your oil as often as you think. Certain vehicles can manage up to 10,000 between oil changes. Consult your Kendall technician to find out more about your vehicle's unique specifications. Schedule service today to get a Toyota oil change done during a time that fits your busy schedule.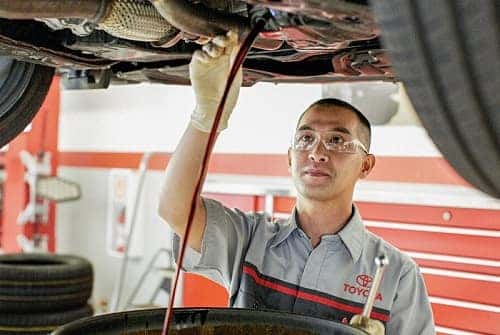 Synthetic Oil
Synthetic oil was originally used in jet engines because of its highly stable viscosity in extreme temperatures. This means the oil maintains its thickness and can efficiently circulate through your engine.
For the most part, you use your vehicle for your commute to work, to get groceries, and to run errands. These constant short trips—stopping and going, turning on and turning off your engine—wear out your engine faster than long trips on highways. Factor in extreme temperatures in summer and winter months and your regular oil could actually end up harming your vehicle. With how complex car engines are getting, more and more manufacturers, as well as our Kendall technicians suggest using synthetic oil to best maintain your vehicle.
High Mileage Oil
High mileage oil is specifically made for cars over 75,000 miles. Its unique formulation includes extra anti-wear additives as well as ingredients to help break up sludge and keep your engine clean. Over time, the rubber seals in your car's engine break down, which allow oil leaks to form. High mileage oil takes care of this issue by creating seals to increase the life of your car's engine.
Toyota Scheduled Maintenance
Your Toyota scheduled maintenance is essential to keep your Toyota car, truck, or SUV running in peak condition for miles down the road. When you visit Kendall Toyota of Fairbanks, we'll make sure your vehicle is checked properly. Our complete vehicle checkup includes a Toyota oil change, tire pressure check, fluid-top off, battery test, filter check plus belts, hoses check, and more. Call or contact us online to learn more about services offered at our Toyota Service Center.